It is with a heavy heart that we announce the passing of our dear friend and track coach Willie Deckard. After battling Pancreatic Cancer for several months he passed May 6th just hours before our CIF Prelims. Willie was a larger than life personality on and off the track that positively influenced athletes for over three decades. He began his coaching career at Crenshaw High School where he coached several All Americans over two decades. Willie then moved on to North Torrance and served as the sprint coach with our Coach Sal Rodriguez. Sal joined our staff four years ago and lured Willie to Redondo. Willie proudly served as our Co-Head Coach for three years. While bedridden most of this track season he stayed in close contact with the coaches orchestrating the workouts and schedule of our sprint and jumps athletes. He stayed very dedicated to his athletes and our school to the end. He loved all his athletes and looked forward to sharing his vast knowledge.
On a personal level I will not only miss his immense knowledge of track and field but his sense of humor in the most difficult moments. We were blessed. Willie is survived by his newly wed Wife Laura. They married last year after his first wife Juanita passed away in 2020. Wille had six children, Alexis, Gina, Xavier, Aaron, Darin and Taylor.
Willie graduated Dorsey High as a standout track athlete and ran at LA City College but transferring to USC. He was an amazing sprinter at all levels. At USC he was the standout athlete on amazing powerhouse teams. He was nicknamed "Mr Anchor" because what ever relay he ran on, no matter what place they were in he somehow secured the win. And he always ran the Anchor Leg!
Further information regarding funeral and services will be shared.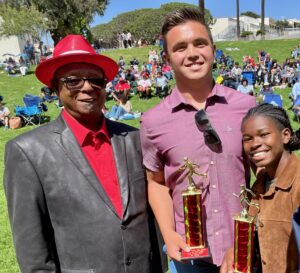 Robert Leetch
Track and Cross Country
Redondo Union HS
Redondo Beach,  CA